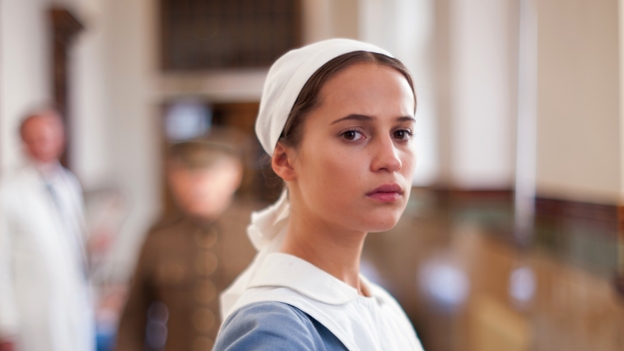 Director: James Kent Screenwriter: Juliette Towhidi Starring: Alicia Vikander, Kit Harington, Taron Egerton, Miranda Richardson, Dominic West, Emily Watson, Joanna Scanlan, Colin Morgan, Hayley Atwell, Jonathan Bailey, Anna Chancellor, Alexandra Roach. 
Nationwide release January 14th Certificate TBC Running time: 129 min.
'Testament of Youth'  is an adaptation of Vera Brittain's revered memoir of the same name. Directed by established British producer and film and television director, James Kent (The Secret Diaries of Miss Anne Lister) the film stars Alicia Vikander (A Royal Affair) as Vera, the smart, opinionated, persevering young woman living in a time of war and heartbreaking uncertainty. 
Idealistic and rebellious Vera is determined not to settle into the path her parents (Emily Watson and Dominic West) would have her follow, pianos and marriage at the beginning of the film do more than bore her – she's furious. Angling for a life as a writer, in the beginning she finds herself battling to join her adoring younger brother Edward (Taron Egerton) in escaping the rolling hills of the English countryside and all it's frivolities, in favour sitting an entrance exam and attending Oxford. Sure enough her tenacity and unwavering passion to make it happen wins her a place at the prestigious university – a trait that is constant throughout the movie. However there are somethings young Vera has little control over, her heart and the intentions of others to win hers, and a war against Germany. 
 Within 20 minutes of the film Vera is declaring that she has no plans to marry – 30 minutes in and she has two handsome young men stealing longing gazes at her and sliding poems under her door. It's  Roland (Kit Harington), an affable young man with ambitions to write also who steals her heart, but no sooner than they're courting is World War I declared. When the war calls for the young men to sign up they do so willingly – Edward, having encouraged his father to let Vera apply for Oxford, is returned the favour when she pleads on Edward's behalf to join the army. Soon Roland is joining the fray, and later her dear friend and admirer Victor (beautiful, nuanced delivery by Colin Morgan).
 Left behind like many women, be it wives, sisters, mothers and daughters were during the war – no amount of studying appeases her guilt and restlessness for letting them all go. Vera defers her studies, much to the incredulity of her course master (an endearing guest appearance from Miranda Richardson) and takes up a position serving  as a voluntary aid nurse during the four year horror, stationed at different points of the war – ebbing closer and closer to the frontline as her inevitable  heartbreak, pain and growing pacifism will allow.
The films boasts breathtaking scenery from the quaint beauty of the English countryside to the foggy train station platforms. The breaking of the fourth wall during sentimental moments, sometimes in Vera's memory sometimes for visual and emotive reasons, is reminiscent of a Stephen Poliakoff drama, one of the techniques that makes his works so symbolic of nostalgia is employed in Kents film. The costumes are stunning, never overbearing or in your face, but the attention to detail is truly noteworthy  every stitch, palette and fabric comes together effortlessly. The true star however is Vikander, the native Swede is remarkable. Beautiful and defiant in the titular role. To look at her you may be forgiven for believing that such a well known, seminal and important story is too much for her petite shoulders – but she pulls it off, and in the midst of an impressive cast of established and exceedingly talented rising British talent, she more than holds her own and the entire film.