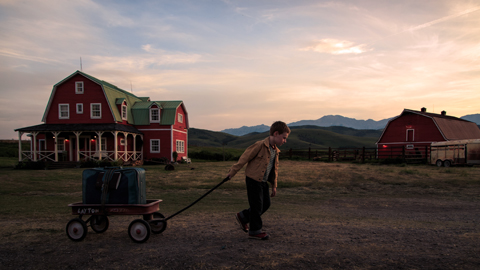 By far one of the best films I have seen this year, and one I will forever list in 'favourites'. Charming, endearing and beautifully composed. The combination of everything aesthetically pleasing, poetic and charming about French cinema merged with all that is wholesome, inspirational and adventurous when it comes to most American literature – makes for a stunning film in this beguiling adaptation. Think Tim Burton's Big Fish meets T.S. Spivet's director Jean-Pierre Jeunet's other whimsical film, Amelie.
Now I never read the critically acclaimed book this film is adapted from by Reif Larsen, but I did read an article recently that despite the book's success and initial parade of Hollywood promises at his door – it took a long while before anyone would take it on. Why? Because, as the Larsen points out, so many were perhaps afraid of being faithful and that of course required a lot of hard work and capturing things perhaps a little too existential or too detailed to put on-screen. Larsen had a handful of directors he believed could do it, styles he had likened to his on paper. Wes Anderson, Tim Burton, Guillermo Del Toro, Alfonso Cuaron and Jean-Pierre Jeunet*. It was Jeunet who got in touch when Larsen had lost hope – and he did so by pointing out the details that reminded him of his own works – Larsen was no doubt beside himself, and it's not hard to see why.
 STORY: Living on a remote ranch with his wannabe cowboy father, insect enthusiast mother, aspiring actress sister and unassuming brother Layton, T.S. has his own eccentricities – he's a 10-year old with the curious and capable mind of Leonardo Da Vinci. After he finds out that he has been awarded a prestigious prize by the Smithsonian Institution for one of his inventions, T.S. sets off on a journey to retrieve his award in person; hitching a ride on a freight train to washington. On his cross country trip he meets new friends and inevitably is faced to deal with the sad memories of ones lost.
.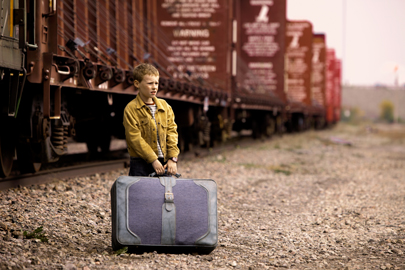 It's a sort of coming of age story but not a complete one, because T.S is still very much a child. Though he's an exceedingly smart one, much of the film (narrated and seen from the point of view of T.S.) is still explored from the eyes of a child – it just so happens this one is a very imaginative one. Anything T.S. does not fully understand is usually shown to the audience in beautifully nuanced detail that Jean-Pierre Jeunet is master of. When T.S. points out the glaringly obvious notion that his parents are so opposite, he can't imagine what brought them together – Jeunet shows us a brief but beautiful corridor touch between the two adults. A smart child he may be, but still a child. Throughout the film there are obvious hints towards the unspoken sadness hanging over T.S.'s family; it's only polarising because they're all so different, what could tear them apart that brought them together in the first place? As kooky and oddly matched as they all are, it seems to be a family where each member's idiosyncrasies are what makes them so similar. When that balance is tampered with, it's from young T.S.'s view that there's very little anyone can do to restore it.
The thing about T.S. Spivet is, I Loved every second of it; from its story to its execution. I cried, laughed and really sat back and enjoyed the 3D aspects, which considering the amount of 3D we're exposed to is completely worth it. Not only is it done so well that it never feels gimmicky, it's a reminder of how 3D should be used sparingly in cinema to be truly appreciated. The acting was nothing short of understated brilliance. Perhaps understated is the wrong word, but what I mean is, with established talent such as Helena Bonham Carter, Dominique Pinon and Judy Davis – everyone plays their part well and generously, never quite stealing the show or drawing on their celebrated eccentricities for screen time, but boosting a sweet and sometimes stagnant script with their presence. The standout performance for me comes from Kyle Catlett as the lead T.S. A child actor who can act is rare. A child actor who is on-screen 99.9 percent of the time, narrating the film and still managing not to be annoying? Unheard of. Not since Macaulay Culkin, circa 1990, have we seen a young man so equipped with the wonderful ability to play a sort of prodigy, but still retain the endearing innocent ten-year old kid as well as Catlett. I can't wait to see what else the film world has in store for him.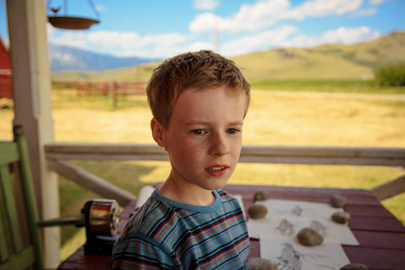 Ah I could go on but I've probably given you too much! Apologies. I loved it, thought it was gorgeous. Musically, visually, acting, the story … the whole lot.
*nb I had written a couple of these directors likeness before i had read the article – it's just so glaringly obvious what he was going for and the right people who could do it.
T.S. SPIVET IS OUT 13TH JUNE
all images courtesy of:
This film selection is part of the Launching Films UK Cinema Showcase: